I've visited Hokkaido on my holidays from September 25th to 28th, and it was way more amazing than I expected. So let me introduce the 6 best destinations in the middle part of Hokkaido, Japan. Hokkaido is the northeast island in Japan, and there are so many vast landscapes and wild lives. If you are tired of city life, I highly recommend visiting there.
Contents
About this trip
It was three night and four days trip. I rented a car for a road trip as always, and this is the course as you can see below.
Hokkaido is huge, and there is no transportations out of the city, so you'd better rent a car if you're thinking of traveling around some places. At this time, Ive traveled around the middle part of Hokkaido like Biei-city and Furano-city well known as beauties of nature. All places I'm introducing are in the middle part of Hokkaido, and some of them are little-known places, so please check it out.
Blue Pond
First of all, I'm introducing Blue Pond. This is well-know as one of preset wallpapers of iMac. Blue Pond is located in Biei district, and there are a huge parking lot, so really easy to go.

This is a photo i took there.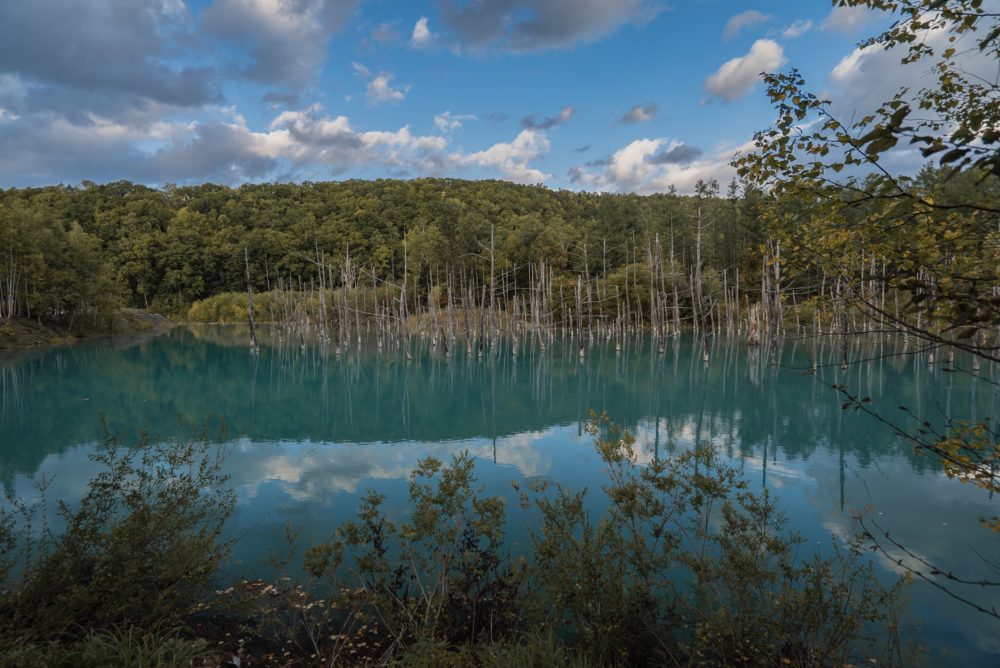 That's really beautiful and literary blue. There is one thing to be careful of before you go there. If you want to see real Blue Pond, you have to choose the day you go there. If the previous day was rainy, Blue Pond gets muddy. So you'd better choose a sunny day which previous day is also sunny. In addition, I recommend visiting there at 8-10am or 3-5pm.Too much sunlight reduce saturation of blue color. If you keep those in your mind, you can come across a beautiful moment of Blue Pond and take some epic photos. If you have CPL filter with your camera, you can emphasize blue even more and control the reflection.
Shirahige Waterfalls
Shirahige Waterfalls is located near Blue Pond. It takes only five minutes from there by car. The waterfalls is also beautiful and in perfect harmony with other trees. I've seen so many nice waterfalls in Japan and other countries but Shirahige Waterfall is still the one of my favorite waterfalls. If you're planning to visit Blue Pond, I highly recommend going to Shirahige Waterfalls after that.
You can capture the water flow as blow by using ND filter and higher F-number. One day, I'll write the article regarding the Detail of how to shoot the photos like this.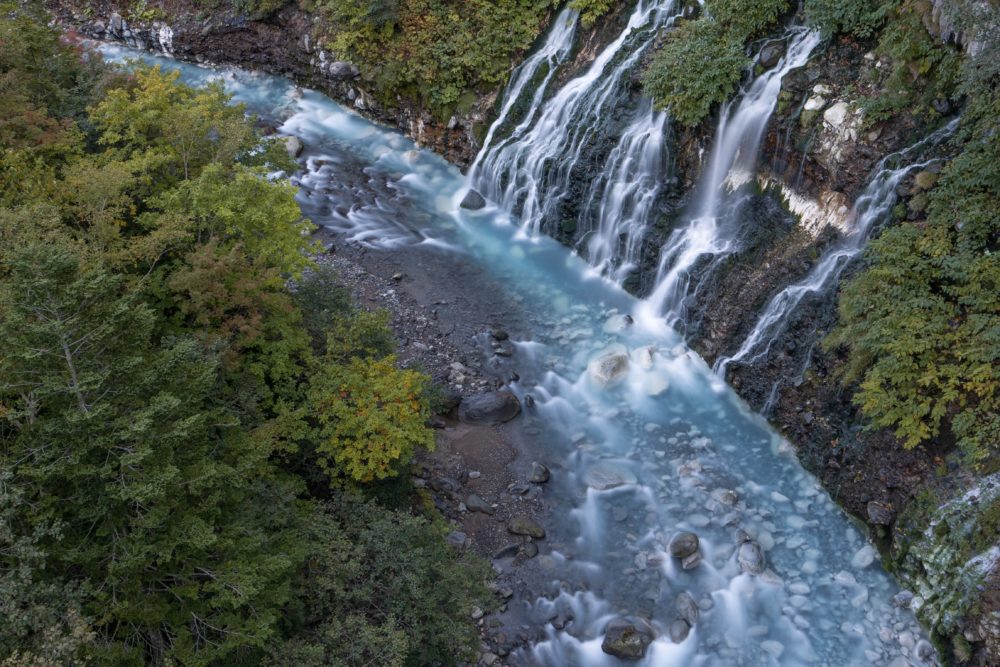 Mt.Asahi(Asahi-dake)
My.Asahi is the highest mountain in Hokkaido and well-know as a good spot to see autumn leaves from mid-September to November. Unfortunately, Autumn leaves are already fallen because of earlier snow than usual. But it was still awesome even if there are no colored leaves. There is a Cable car from parking lot to half way up the mountain.
This is a picture I took on the way to Mt.Asashi. It was just awesome.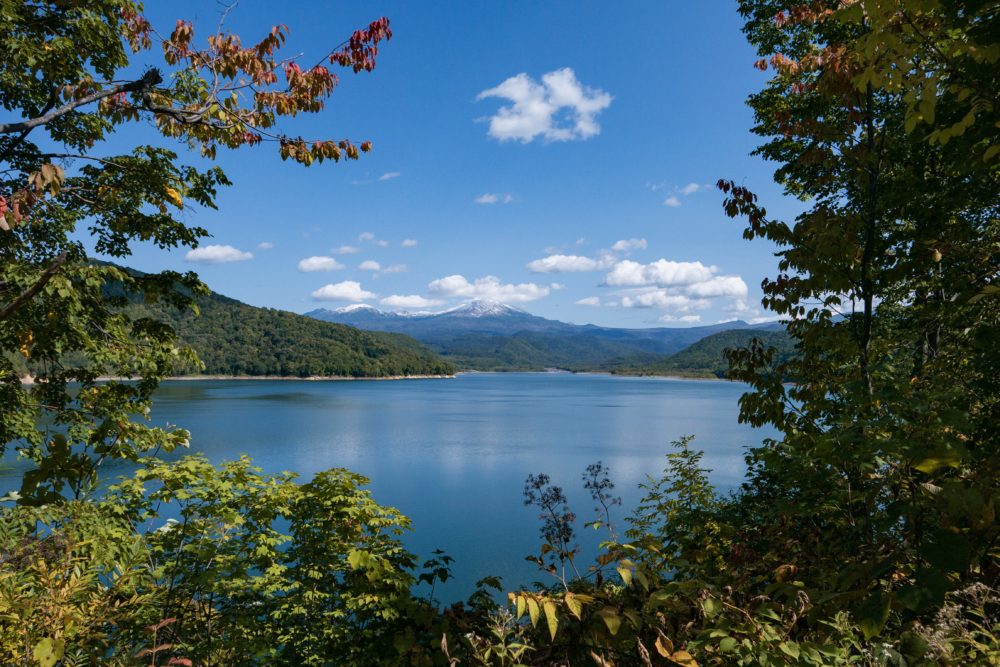 And this place is five minutes walk away from the cable car station on the mountain.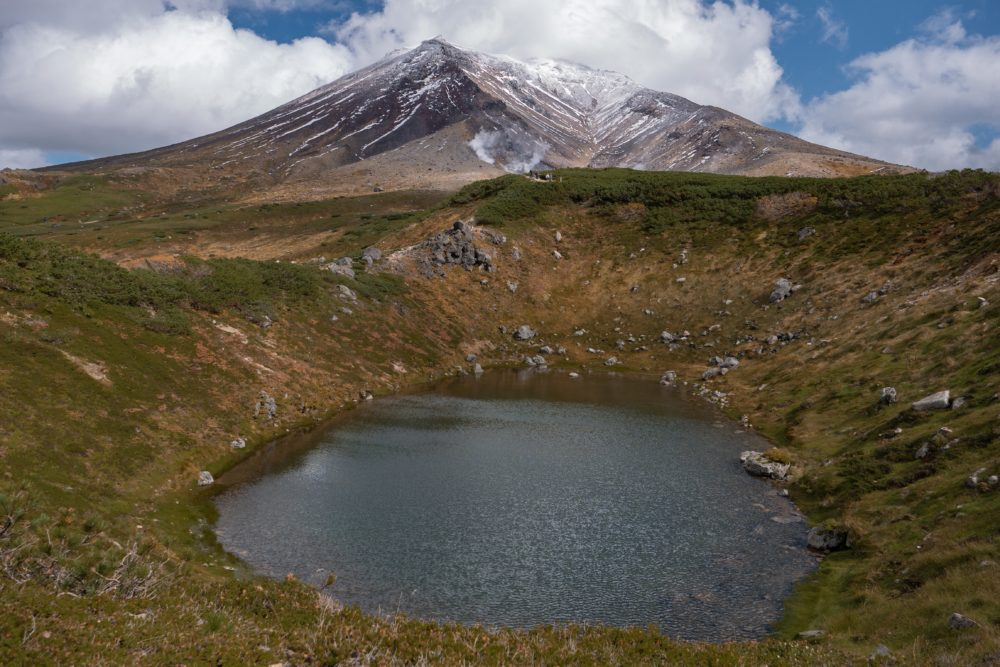 How do you like it? You can see vast landscapes after a ten-minutes ride on a cable car. Why don't you go there once?
Farm Tomita
Farm Tomita is a flower garden and located in Naka-Furano city. Some might know this place, because most guide books introduce it.
You can see beautiful flower garden as below for free. There are various flowers in every season except for mid-winter.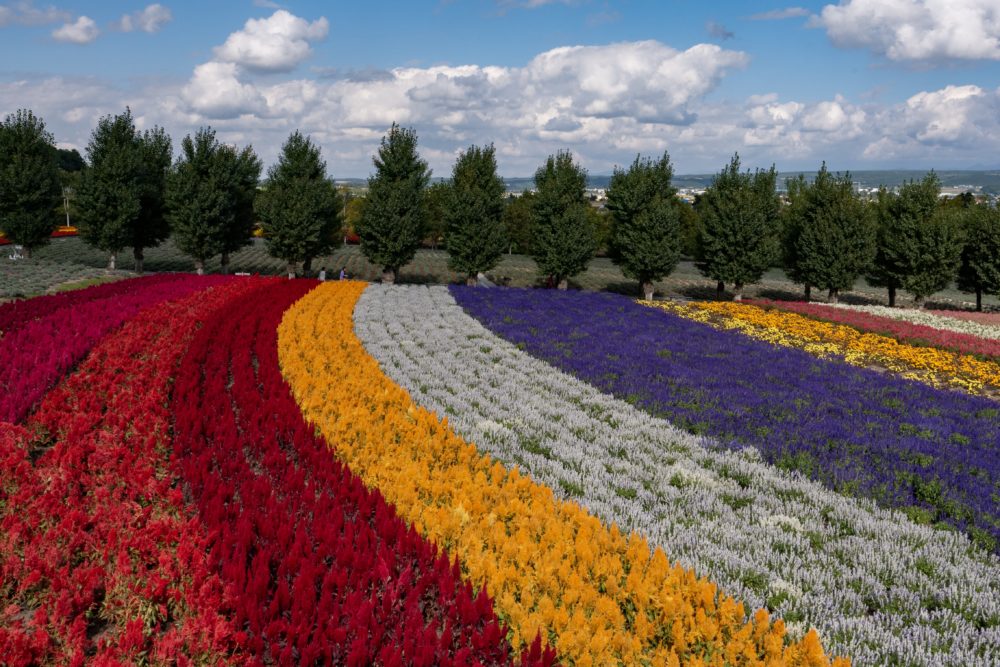 Mt.Hokusei
So now, let me introduce a little-known place. The man of Airbnb kindly told me the place. The place is called Mt.Hokusei and is really good place to see sunrise and sea of clouds. It takes you only five minute to go there by car and close to Farm Tomita.
The view seen from this place is as below. I was lost for words. Gradation of colors, beautiful mountains, sea of clouds and great sunrise, everything was perfect. If you want to see the moment like the picture below, you have to go there thirty minutes before sunrise at least.

Lake Shikotsu
Let me introduce Lake Shikotsu at the end. It takes you only thirty minutes to go there from New-Chitose Airport. It is known as one of the most clear lakes in Japan, and you can go down to the lakeside. Apparently, there is a camping site.
This is a photo of Lake Shikotsu. It's surrounded by beautiful mountains. If you have a few hours for free, I highly recommend visiting there. You must like it.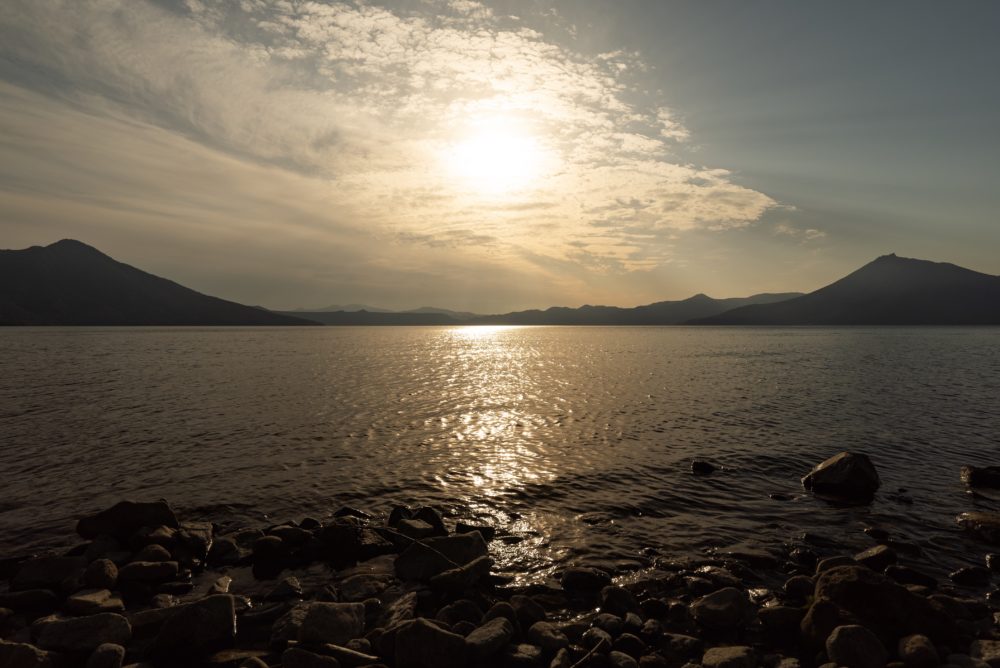 At the end
I've introduced some well-know places and little-known places in Hokkaido, Japan. I've always looked for some good places in other countries, but Hokkaido told me there are also good places in Japan. I hope this blog will help you travel Hokkaido.
↓Related Articles↓